Epoxy Flooring
Looking for durable, seamless and easy to maintain concrete solutions? Gramer Flooring is here to help! We specialized in commercial and residential epoxy coatings installations. A garage floor and other high traffic walking surfaces are often neglected when it comes to cleaning and maintenance. They are always exposed to a lot of harmful elements so any damage is, let's say, inevitable. Many homeowners in Northern Kentucky and Cincinnati either stick to a plain concrete floor or attempt to make it more durable by adding another material on top, such as tile, vinyl mats, rubber, and more.
Why not use epoxy floor coatings instead? It works on existing concrete, providing a highly protective and durable layer without compromising physical appeal. See here for information about Hardwood Floor Varnishing
Most off the shelf or DIY products contain fillers or solvents which result in a thinner coating overall. Only Gramer Flooring uses 100% solids high build epoxies or polyaspartics which produce the same industrial strength floor in your garage that is found in airplane hangars and industrial warehouses.
Epoxy is a Great Addition For:
Garages

Warehouses

Retail Stores

Basements

Restaurants

Industrial Spaces

And More!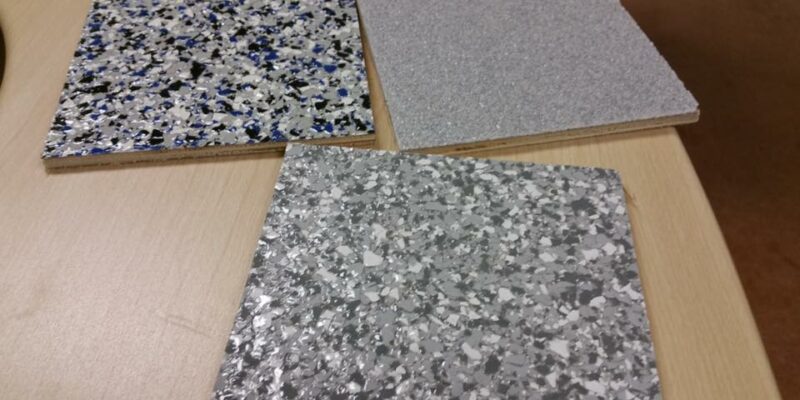 Benefits of Epoxy Flooring
Easy to Install – Epoxy floor coating is easy to install and it takes a shorter time period compared to replacing the whole concrete garage floor. Although the installation process is simple and easy, it is still highly recommended to hire a pro to do it. Epoxy can be quite tricky. Installed incorrectly and its quality and durability are compromised.
Tough as Nails – Epoxy dries in just a few hours but it needs two or more days to cure properly. Once completely cured, epoxy becomes a very hard plastic surface that is durable enough to keep the concrete underneath from acquiring damage.
Resistant to Most Types of Floor Damage – Epoxy is a very durable material, if properly mixed and installed. It is resistant to impact, abrasion, stains, moisture, and other types of floor damage.
Aesthetically-pleasing – Garage flooring is often messy, discolored, and greasy. Just when you thought that appeal only belongs to showrooms, epoxy flooring comes along. Epoxy has several design options. You can choose to have opaque or metallic epoxy floors with your desired colors. If you want a terrazzo look, multi-colored chips can be integrated in the epoxy layer.
Safe from Slips and Falls – When it comes to slip-resistance, epoxy does not fall behind more textured floor materials. It has a non-skid surface that looks smooth and seamless. If you want to increase traction further, you can add additives to its top layer.
Affordable – Epoxy is an affordable way to restore an old concrete garage floor. Instead of replacing the whole floor, this coating gives it a new surface that is both appealing and functional. The costs involved in an epoxy floor installation is less expensive than other types of garage flooring options.
Easy Upkeep – While some floors require a special cleaning product and routine, epoxy requires nothing at all. Dirt stays on the surface, easily removed with a good sweep. Liquid beads at the surface, ready to be wiped or mopped.
Environment-friendly – Epoxy is used on existing concrete slabs. This means it eliminates the need to use a new mix of fresh concrete, which lowers the carbon footprint acquired from cement production.
Different Types Of Epoxy Flooring?
Self Dispersing Epoxy Coatings for Floors: This type of epoxy coating is commonly used in areas that receive frequent forklift or heavy truck traffic as it has very good mechanical strength. Another type of this durable epoxy coating is self dispersing epoxy with quartz sand. This type of epoxy coating is commonly used in food processing industries or other locations where liquids are present because it has good anti-slip characteristics.
Self Leveling Epoxy Coatings for Floors: Self leveling epoxy coatings are easy to install over new and old concrete floors as they level easily creating a seamless and smooth surface. Self leveling epoxy coatings can be used in kitchens, dining rooms, storage places, garages, warehouses, office buildings, and more.
Mortar Epoxy Coatings for Floors: This is the strongest of all epoxy floors. This type of epoxy coating is commonly used in heavy industry applications and can also be used to repair cracks before lying other types of epoxy floors.
Graveled Epoxy Coatings for Floors: Graveled epoxy coatings are the most decorative epoxy flooring choice and they can be used for adding logotypes, brand marks, and decorative details to floors.
Epoxy Terrazzo Floor Coatings: This type of epoxy flooring is very decorative and easy to clean. Epoxy terrazzo flooring is commonly used in large areas including hallways and entrances of commercial buildings, schools, and office buildings.
Epoxy Antistatic Floor Coatings: This specialized epoxy coating is designed for use where static-sensitive electronic components are in permanent use and a static-free environment is most important such as in laboratories, hospitals, and electronics equipment manufacturing plants.
Vapor Barrier Epoxy Coatings: Liquid epoxy vapor barriers are applied directly over concrete floors to provide an impenetrable surface that reduces vapor transmission to nearly zero. These epoxy coatings are typically applied prior to adding the final flooring surface including sheet vinyl, tile, carpet, or hardwood floors.
Epoxy Flaked Floor Coatings: This is not exactly a type of epoxy flooring, but rather a style of applying epoxy coatings. With this epoxy flooring technique, multi colored flakes or chips are added over the epoxy coating while it is still wet in order to provide a decorative finish or look.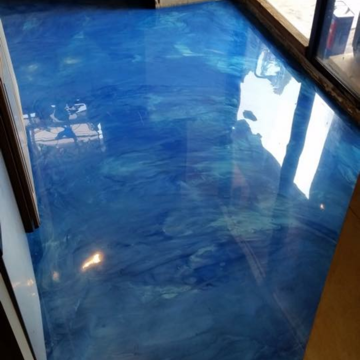 Garage Floor Epoxy
With garage floor epoxy the best step you can take to create the most durable and toughest flooring for your garage is to apply a garage floor epoxy coating.  Unlike traditional garage floor paint which simply dries on the surface it is applied to, our 100% solids, high build garage floor epoxy coating undergoes a chemical reaction that results in a thick coating, tightly bonded to the prepared surface.  You are not only left with a quality flooring that looks nice, but also one that can withstand abrasions, stains, impact, and chipping.  Gone are the days you have to worry that dropping a heavy tool or dragging the lawnmower out of the garage will result in unsightly scrapes and scratches on your epoxy garage floor coating.
We want you to have a garage floor coating that matches the style of your home, and for this reason, we offer multiple beautiful color combinations with decorative flecks, or you can design virtually any combination of base and fleck colors you want. Of course, solid color floors are available too.  Speak to our professional to determine the right color for your garage floor.
Epoxy Garage Floors Are Installed To Last
One Day Installation
Our most popular epoxy floor coating allows you to return your items to the garage the same day. All of installations start with an epoxy primer that fuses deep into the concrete to provide adhesion that is three times stronger than typical epoxy systems.
Crack and Joint Repair
One of the keys to a long-lasting epoxy garage floor is proper preparation and attention to flaws in the original surface. We prepare the concrete by grinding the surface and repair any open cracks, joints or surface imperfections with professional products, which are specifically designed for the treatment of concrete cracks.
Maintenance Free
Our clear, abrasion-resistant polyasparitic topcoats produce a tough, easy-to-clean surface that does not require waxing or other labor-intensive upkeep. Garage floors must withstand many hazards, from the impact of rolling heavy items and vehicular traffic, to close contact with a wide range of chemicals. Ideal for demanding environments, your garage floor will be aesthetically pleasing and impact, abrasion and chemical resistant.
No Peeling or Flaking
Gramer Flooring epoxy flooring systems are built on our direct-to-concrete epoxy that fuses deep into the concrete, and bonds so well that you can expect to get strong moisture vapor emission-blocking power. With up to multiple times more adhesion than other epoxy and polyasparitic coatings, they will not peel or flake – period!
How to Choose the Best Contractor for Epoxy Flooring?
THE TOOLS
Gramer Flooring only utilizes professional processes and equipment to prepare your floor. We use the right tool for the job every time.
EXPERIENCE
Gramer Flooring has been installing garage floors for over 10 years. They have installed thousands of square feet of coatings with zero failures. All installers are trained certified specifically in the Epoxy, Polyaspatic and Polyurea coatings they apply.
SELECTION
Gramer Flooring stocks a wide array of colors to choose from, along with endless special-order options. Should you need help making your color selection, let their professionals help you at no additional cost to you.
GUARANTEE
Gramer Flooring warranties its floors for as long as you own your home. The warranty covers workmanship, materials as well as fading, flaking and peeling and hot tire transfer marks. No other competitor's warranties cover your floor as well as theirs.
Talk to the professionals today (859) 663-7678 and get a free estimate
About Fort Thomas, KY
City of Fort Thomas, Kentucky
Area:
Local Time:
Mayor:
Weather:
Population:
Things To Do in Fort Thomas, KY