Attractive and Durable Hardwood Flooring
Hardwood Flooring in Cold Spring, KY
Hardwood flooring is one of those looks that never go out of style. There is a variety of hardwood designs and options to choose from to complement the decor of your home or business. The high-quality design of hardwood is a long-term investment that you won't regret. Whether you're laying a wood floor in a new house or replacing one that's damaged beyond repair, there are dozens of species to pick from. Information about Hare Decorative Concrete
Installation Types For Wood Floors
Once you've decided on a type of wood floors. next, you will find it comes in three basic installation types:
Strips: narrow tongue-and-groove boards cut in random lengths

Planks: tongue-and-groove boards that come in various widths as well as random lengths

Wood tile: most often patterned and laid in geometric patterns in a parquet style.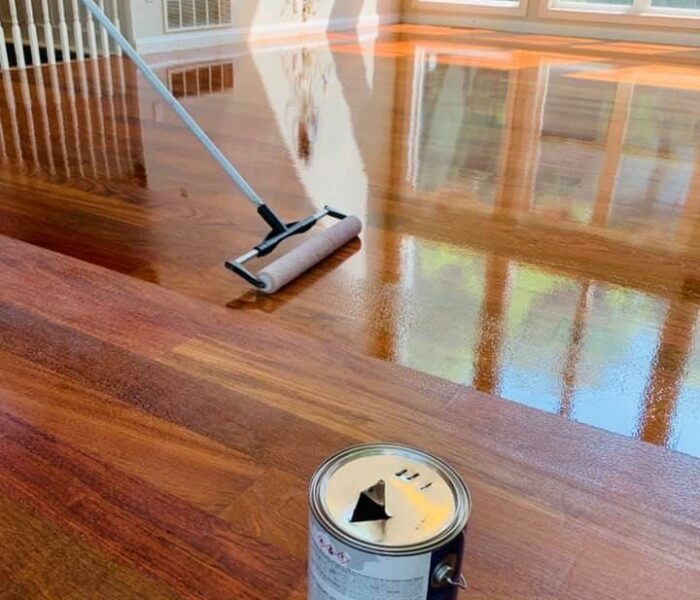 Benefits of Hardwood Flooring in Cold Spring, KY
Easy to clean
Hardwood floors are not difficult to clean as they do not collect a lot of dirt, dust, and debris. A weekly cleaning procedure involves vacuuming, moping, and keeping the floor dry enough. They last long for so many years if they have been cared for properly.
Attractive Look
A hardwood floor looks so attractive and beautiful. There are varieties of designs available in the market from traditional to modern. It comes in several types of woods, such as oak, cherry, and walnut. It depends on your taste as which to install.
Valuable
Hardwood floor increases the value of your property. Cold Spring, KY houses with hardwood floors sell faster than the house without it. It is an excellent long term investment as it also becomes a strong resale point.
Different Varieties
Hardwood floors offer a wide range of looks. It comes in different colors, styles, stains, and species. You can choose the hardwood floor according to your taste, requirements, and budget. No matter how diverse and unique your needs are, there are many hardwood flooring options available.
Maintenance
Hardwood floors can also be sanded and refinished multiple times, which means that you can repair any scratches and restore the floor's good-as-new glow.
Good For Health
It is good for health as Wood floors don't catch dust and irritants the way carpets do. Once you sweep or vacuum, you'll know just by looking at your floorboards that they are clean and dust-free.
Choosing Hardwood Flooring for Your Cold Spring, KY House or Office
Engineered Flooring
Hardwood flooring usually came in thick planks of solid timber. Today most companies look for engineered flooring—planks made with a thinner top layer of hardwood bonded to other layers designed to prevent the floor from shifting. Engineer flooring is easy to install as compared to solid. Engineered hardwood also tends to be slightly less expensive than solid wood.
Solid Flooring
Since solid hardwood can be sanded down repeatedly, this means dents and scratches can be easily sanded out, and there are no limitations to the number of times you can refinish your floors.
Prefinished or Site Finish
You can choose between prefinished or site finished. Prefinished comes with the stain and topcoat already applied. The advantage of prefinished wood is that "you know exactly what you're getting. Site finished comes with a raw face that gets finished by a professional after installation.
Wood Types
There are many woods comes which are durable and cost effective, Oak, Walnut hickory, cherry, maple, and ashes are popular choices.
Why Gramer Flooring for Hardwood Flooring in Cold Spring, KY
Good Equipment
It actually depends on the installation of the type of flooring, it may require different tools and materials for a different type of wood flooring. We have all the tools available with us to do the work timely and perfectly.
Experience and Expertise
We have 14 years of rich experience in the industry providing quality flooring solutions to our clients in Cold Spring, KY. A passionate team providing you the work with the highest quality in Hardwood Flooring, and other flooring solutions.
Competitive Prices
Gramer Flooring is a leading flooring company in Cold Spring, KY. Our prices are very affordable as compared to other flooring companies. We only deal with the most popular and reliable manufacturers to ensure that you get top-quality products.
No Sub-Contractors
Gramer Flooring can provide you with your total flooring solution without the hassle of sub-contractors. Our employees are trained in specific fields and across the board in order to produce the highest quality work, whether you need brand new designer floors or a simple repair job.
Talk to the professionals today (859) 663-7678 and get a free estimate
About Cold Spring, KY
City of Cold Spring, Kentucky
Area:
Local Time:
Mayor:
Weather:
Population:
Things To Do in Cold Spring, KY