Gramer Flooring is a locally owned and operated business that has been in the industry for over 14 years. You can trust that we will always deliver honest and reliable services.
CONCRETE FLOORING
Concrete flooring is simultaneously beautiful and practical. This flooring option is growing in popularity due to its ability to withstand heavy foot traffic and wear and tear better than any other flooring option. This feature makes it an optimal choice for commercial businesses and industrial spaces where you want your flooring investment to last. Its clean beauty also makes it a great choice for areas where you want to highlight style, such as residences, public buildings, lobbies, restaurants, retail shops and more.
POLISHED CONCRETE
Polished concrete is one of the lowest maintenance flooring options that you can choose. Not only is polished concrete very clean and professional looking, but it also stands up well in high-wear environments. Polished concrete is a great flooring solution for almost any space, but is especially good for:
Garages
Warehouses
Retail Stores
Basements
Restaurants
Industrial Spaces
DECORATIVE CONCRETE
Decorative concrete is one of the best ways to resurface your concrete. We can apply effects such as staining, engraving and artistic designs to give your concrete floor a stylish and unique look. Decorative concrete looks great in a variety of settings, but are especially popular for:
Pool Decks
Patios
Driveways
Walkways
Interior Concrete Floors
Countertops
And more!
EPOXY
An epoxy coating will add a level of durability that you can't achieve with concrete alone. Epoxy stands up against chemical/cleaner spills and is water and heat resistant. It also protects the underlying concrete from stains and cracking.
Besides increasing the durability and longevity of concrete, epoxy adds an element of beauty that you can't get with staining. With epoxy, we can add eye catching colors, glitter effects and metallic flakes to create a space of allure in your home or business. Epoxy is a great addition for:
Garages
Warehouses
Retail Stores
Basements
Restaurants
Industrial Spaces
And More!
VARNISHING
A varnish finish on your hardwood floor is one of the most proactive steps you can take in protecting your flooring investment. Varnish creates a layer of protection over your wood floor, safeguarding it from most impacts, spills and other damage. Varnish also helps to fill and seal the wood's pores, preventing dust collection and keeping maintenance minimal.
A professional varnish finish should last for ten years or more, making this a cost-effective long term investment. If your varnish is beginning to wear, Gramer Flooring also provides revarnishing and hardwood maintenance services.
FLOORING MAINTENANCE & REPAIRS
From scratches, chips, scuffs, scrapes, cracks and more, Gramer Flooring has the expertise to repair almost any blemish on concrete or hardwood flooring. Save your time and money with a repair instead of a new installation.
On the other hand, the best way to prevent damage to your flooring is to maintain it properly. We can set up a regular maintenance schedule with you to ensure that your new floor's beauty lasts for as long as possible.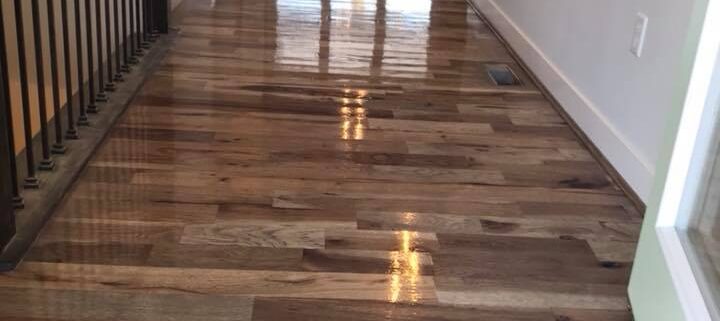 HARDWOOD FLOORING
Hardwood flooring is one of those looks that never goes out of style. There is a variety of hardwood designs and options to choose from to complement the decor of your home or business. The high quality design of hardwood is a long term investment that you won't regret.